SMX Sydney 2015 (#smxsydney or #smxsyd15) took place this year at the SMC Conference and Function Centre on Goulburn Street in the heart of Sydney, Australia. SMX is one of the premier search marketing conferences and one of the few quality search events that take place in Australia. Barry Smyth from No Drama Media has been running these events (and others) for years, the speaker line-up is always solid.
Inspired by Woj Kwasi's live blogging last year, using a lot of his (and others) tweets, I thought I'd try and summarise the main points and take-aways, along with links to slides, tools and some of my own comments.
This post is a work-in-progress and will be updated over the next few weeks, apologies for any errors or missing pieces. I want to make sure I soak up the details of all the talks, while taking notes.
SEO Sessions/Track
SMX usually has several streams, the Sydney event featured an SEO track and a PPC track. You can find the full SMX Sydney agenda here.
If there was ever a time I could be in 2 places at once, it would have been at SMX. In this post, I'm only covering the SEO sessions. Going off the feedback from those that attended the PPC stream, that would have been equally awesome. I know I missed some brilliant speakers, but I'll update this post to refer to as much related content as possible, it just won't have any commentary.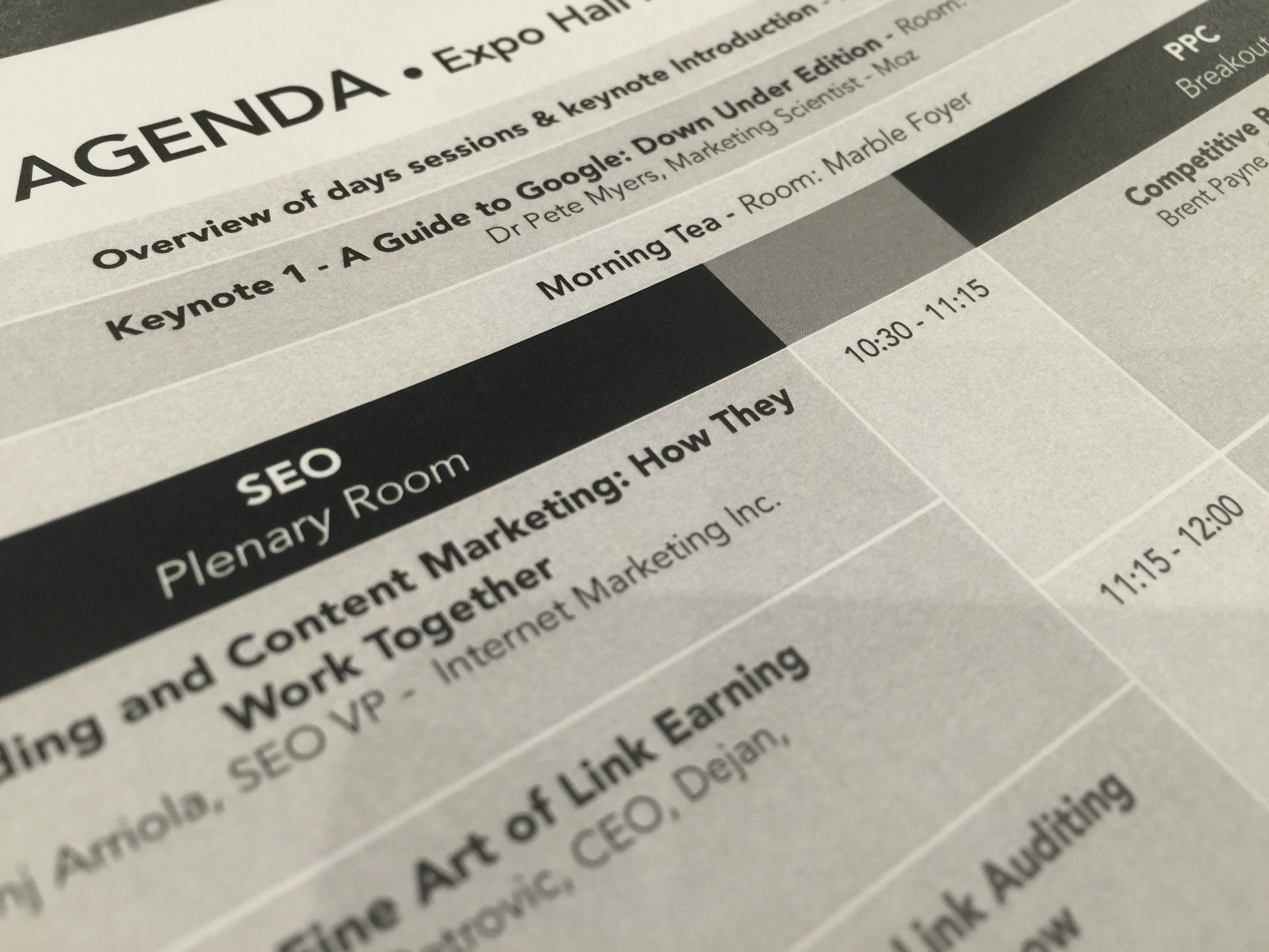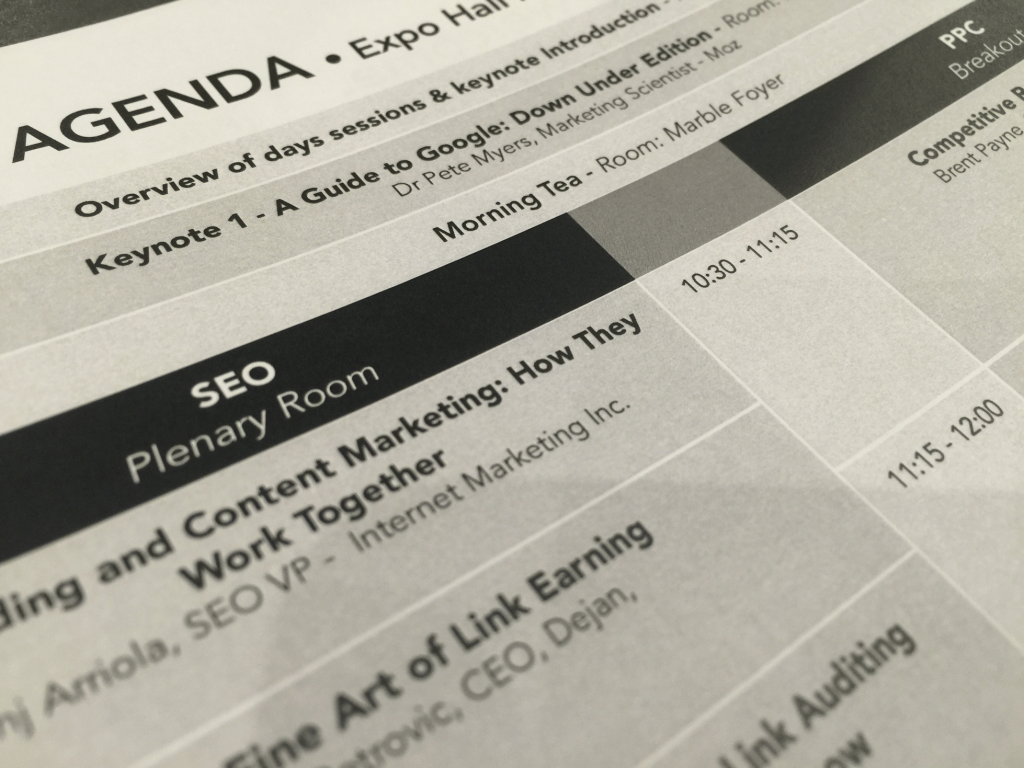 Search Engine Optimization (SEO) and Pay Per Click (PPC) have a lot in common, so for me it's always a hard choice – but that's the deal with conferences 😉
SMX – Day 1
A Guide to Google: Down Under Edition – Dr. Pete Meyers
The keynote was kicked off by Dr. Pete Meyers, the Marketing Scientist at Moz and "Mad Hatter" at MozCast (a tool we've covered previously in our post on monitoring search ranking fluctuations). The audience was given a birds eye view of the many recent changes taking place in search.
My #SMX Sydney deck is up: "A Guide to Google: Down Under Edition" — http://t.co/8dTfW9TZLO

— Dr. Pete Meyers (@dr_pete) May 12, 2015
Link Building and Content Marketing: How They Work Together – Benj Arriola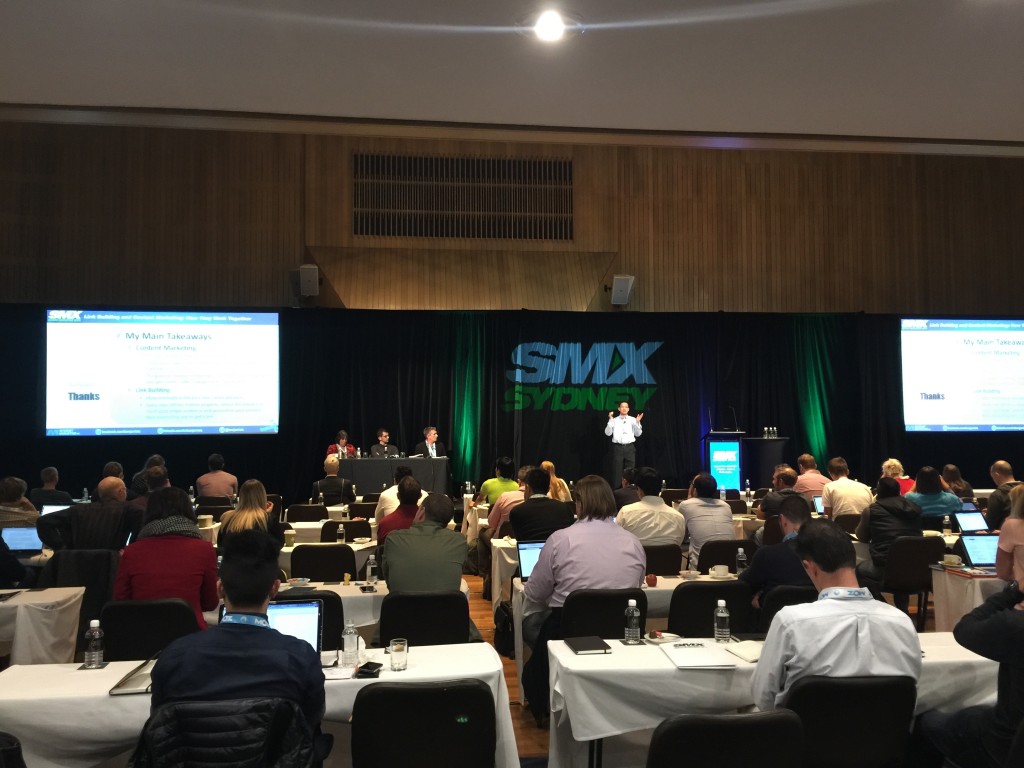 The Fine Art of Link Earning – Dan Petrovic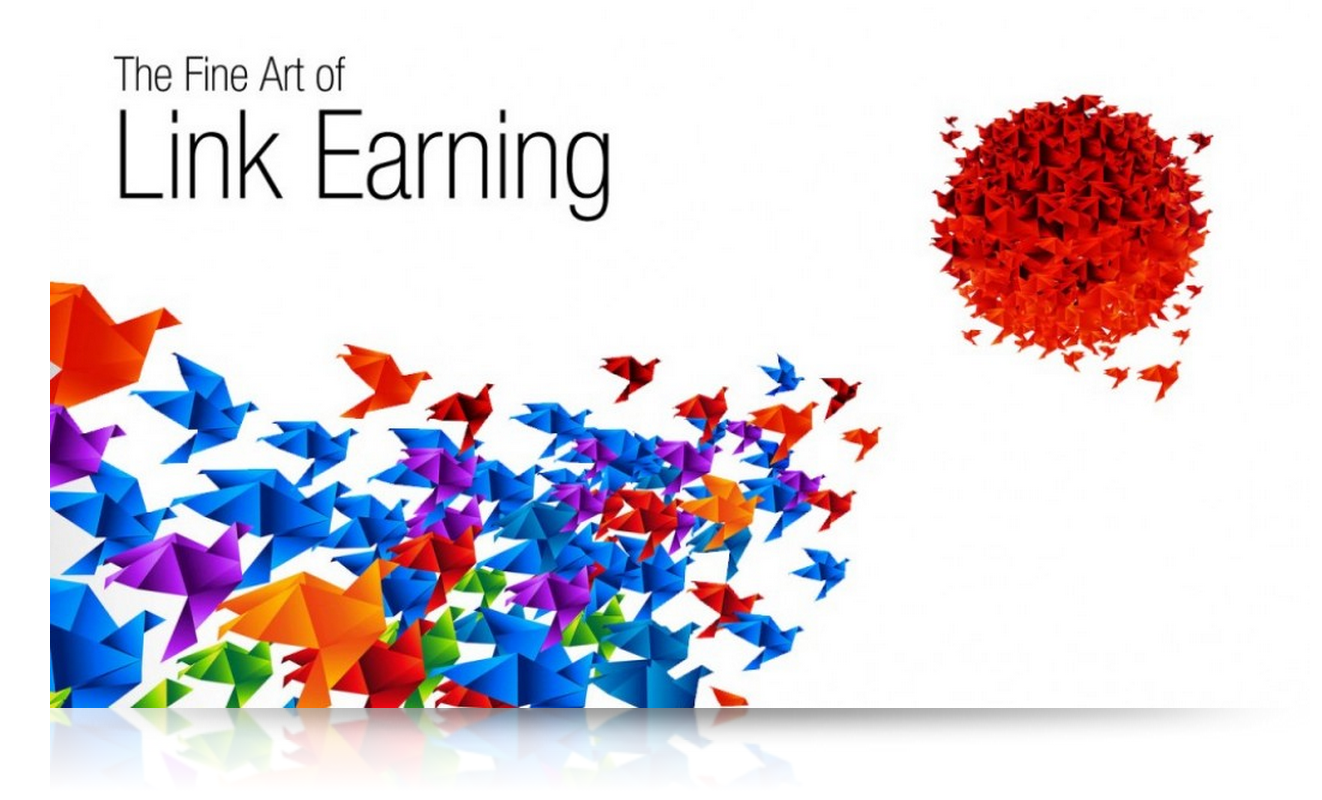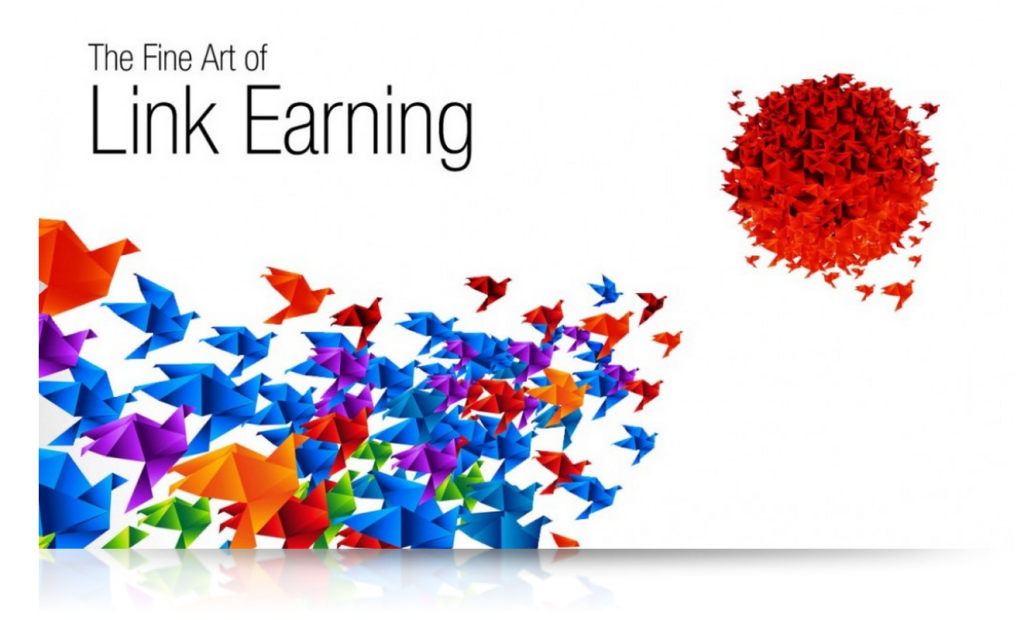 You can get the slides here.
Dan's talks are always a hit, he got some good social lovin':
Up next @smx #Sydney is @dejanseo

Been waiting for this one like a kid waiting on Christmas!#SMX #SMXSydney

— Sha Menz (@ShahMenz) May 12, 2015
@dejanseo #SMXSydney #smx best of the day so far. Thanks Dan.

— Brad (@BradForster) May 12, 2015
Penguin Penalty Prevention – Link Auditing Techniques You Need to Know – Sha Menz
Sha's talks are always full of actionable information, something I always look forward to sitting in on. Her presentation focused on penalty prevention, it's a topic that's very technical and often misunderstood.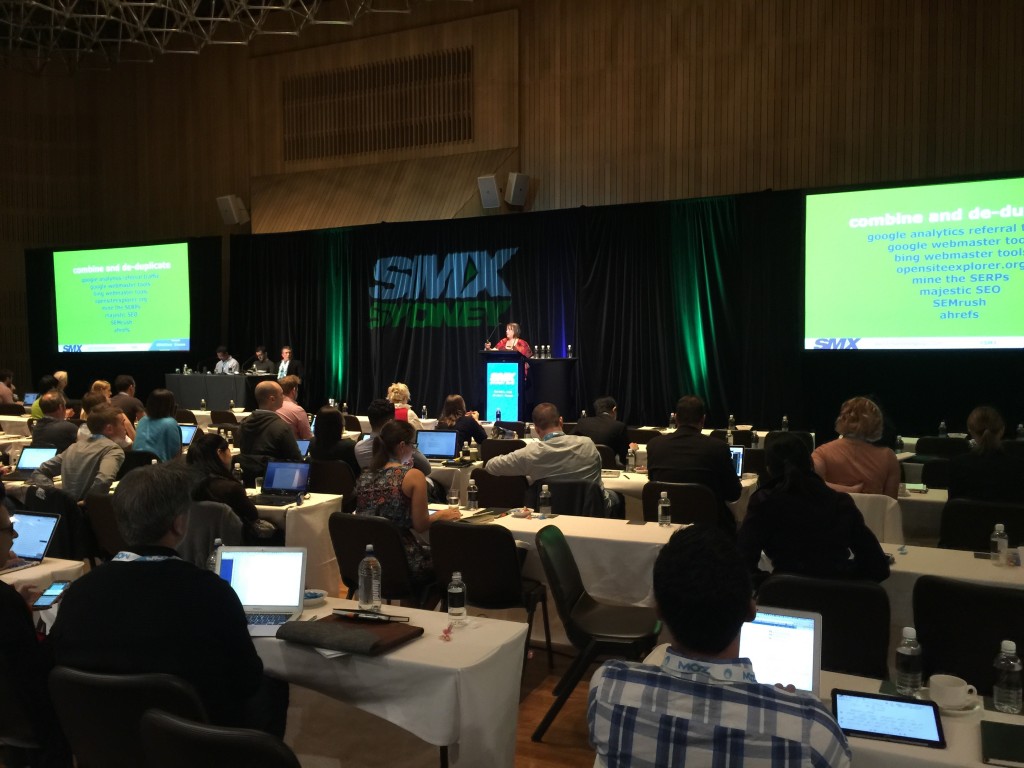 Wearables, Mobile and the Internet – Gary Illyes
I personally loved the theme of thinking about the future. It's probably not as far away as we all think, we're just all so used to things moving so fast.
Google has 2 different ranking systems for desktop & mobile but 1 index for both @methode #SMXSydney #SMX

— Woj Kwasi (@WojKwasi) May 12, 2015
Woj Kwasi summarised Gary's scoop on Google's recent mobile update.
Managing Search, Managing Change – Jeff Preston
I was lucky to chat to Jeff at a previous SMX about how marketing fits into operations. I remember how impressed I was listening to the importance he put on development and marketing operations. It's something you don't hear spoken about much, whether it be at marketing or development focused events – but I firmly believe it is where the magic happens, so needless to say I knew Jeff would nail whatever he spoke about. I wasn't disappointed.
I enjoyed listening to Jeff's first hand experiences on gradual migration vs ripping the bandaid off. He also noted that a technically sound site our-performed the stronger domain (more detail to follow). Site migration or change on high value sites can get tricky, so I agree with the stressing the importance of always learning.
Domain changes are one of the most impactful SEO transitions @jeffreypreston #HandleWithCare #smxsydney #SMX pic.twitter.com/j1Aumc8c5e

— Woj Kwasi (@WojKwasi) May 12, 2015
Not Every Ranking Problem is a Panda or Penguin! – Jonas Weber
Jonas delivered excellent coverage of some of the main problems that can cause site issues and ranking problems.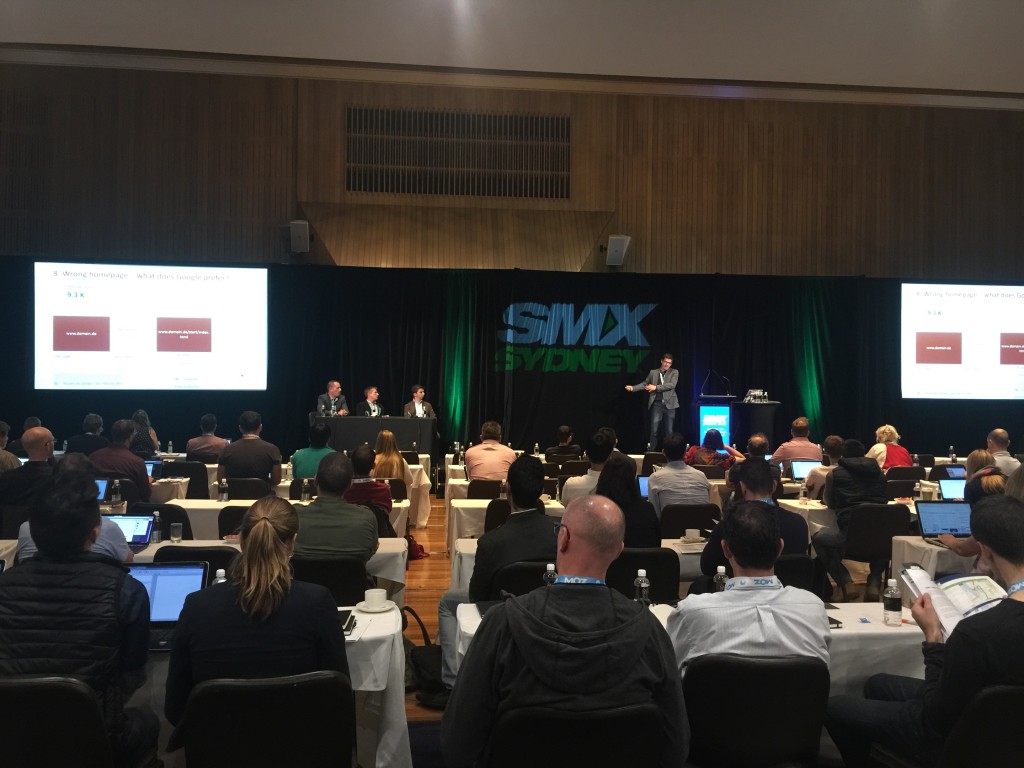 Beyond the Google Web SERP: Optimising for New Places in an Evolving World – William Sears
If video views are a KPI then also optimise for set-top boxes & micro-consoles @WKSears #smxsydney #SMX pic.twitter.com/L6RzDfHRX7

— Woj Kwasi (@WojKwasi) May 12, 2015
Microsoft and the Future of Search as We See It – Kevin Grobler
Kevin explored the evolution of intelligence platforms, those that go way beyond search. These systems will continue to know and learn much more personal information about us, the difference between work and home – which will enable truly smart systems. He demonstrated Cortana, and talked about the various Bing-powered platforms and devices (for the very keen, check out Echo – I hope to road test one soon!).
SMX – Day 2
Did Captain Kirk use Google? The Future of Search! – Behshad Behzadi (and Gary Illyes)
Behshad Behzadi kicked off day 2 with an overview of where search is now and how we've got there. He then jumped straight into the topic of his presentation: what's next?
The world is changing. Mobile is the future, while mostly smartphones are used as examples when we discuss mobile, it's more about a devices that move with you – including IoT connected devices.
A few key points:
People are already using speech
The ratio is of speech is growing faster than type
There are cases where speech is the only way to input
It's rapidly improving
Current error rate of voice is 8%
Voice is also generational, kids and teenagers are much more likely to embrace voice.
"In a mobile world people need the web and apps."
The goal is to build the ultimate assistant, one that understands:
The world
You and your world
Your current context
Behshad ran an impressive range of queries, building in complexity. Then gave us a demonstration of app indexing.
The next demo was sending an email to a colleague, which worked flawlessly. A few more searches were performed and then we were shown the various ways to deal with corrections.
Context search then continued as the focus – the concept of context and location-based search is unbelievably powerful. Some more examples were then given on context can be better used to make conversations more natural.
Is the ultimate assistant still science-fiction?
The future of search is the pursuit of this assistant, one that:
Helps daily life
Saves you time
This topic definitely got the crowd talking:
#Google Now's intuitive voice recognition capabilities being demonstrated now #SMX #SMXSydney #Siri & Bing's #Cortana trailing far behind…

— Thea Anzures M. (@HolaThea) May 12, 2015
Google voice search vs Bing's Cortana…only one winner #SMXSydney

— Gavin Hirst (@garvo13) May 12, 2015
Some great further reading for the super-keen:
My predictions about conversational search. Behshad reckons they'll get there eventually: http://t.co/nqDuRDDhXa #smx #SMXSydney

— DEJAN (@dejanseo) May 12, 2015
And a few LOLs:
The funniest moment during today's keynote is about to happen when Behshad say "OK Google" and everyone's Android fires up. #smx #SMXSydney

— DEJAN (@dejanseo) May 12, 2015
@ShahMenz that's correct, I just voice searched for "Himalayan Earthquake" it suggested "Somalian get crack" 🙂

— Karthik Vijay (@xpresskarthik) May 13, 2015
Creative Content Marketing: From Strategy to Execution – Benj Arriola
Benji dove into the guts of content marketing, with some examples of his own processes and research.
One thing I like about Benj's talks is that he gives the audience plenty of actionable tips.
trigger words for content marketing #smxsyd15 #smxsydney pic.twitter.com/B6ZJ7gCcrq

— Brad (@BradForster) May 13, 2015
Have a boring subject matter? Stretch the relevance and pick a wider relevance that a normal user may be interested in. #SMXSydney

— Michelle Phibbs (@MichellePhibbs) May 13, 2015
Stretch the relevance to create content for boring verticals says @BenjArriola at #SMX #SMXSydney pic.twitter.com/A7FGicBev5

— Reeva (@ReevaCutting) May 13, 2015
International SEO – Jeff Preston
As Senior SEO Manager at The Walt Disney Company, Jeff works on lots of sites with global presence. The first topic covered was choosing a domain: local ccTLD domain, subdomain, or subdirectory. There are many pros and cons for each choice. His opinion was that if you have an existing international set up, it's probably best to keep it that way.
Jeff then jumped into the good stuff, hreflang. He spoke about a case study using ESPN, the Disney.com/Disney.com.au as shown below.
Hreflang will not fix your basic SEO problems #SMXSydney #smxsyd15 @jeffreypreston pic.twitter.com/17XTgnT3fO

— Chris Burgess (@chrisburgess) May 13, 2015
There was a good question about the whether or not to go with a ccTLD or subdomain, in the Disney example – disney.com.au was a decision made 15 years ago, so sticking with that was the best option. For a new project, it's a different story. It was also mentioned that tracking and analytics can be easier when using a subdomain/folder structure.
A handy tool for help understanding and using hreflang is the hreflang Tags Generator Tool.
Actionable SEO Insights – Tori Cushing
Tori started off by stressing the importance data and making it actionable. Setting specific goals (with numbers), e.g. Increase free trial signups by 15% by the end of 2015. She then walked us through a brilliant example of landing page analysis using data from Google Analytics and SEMrush.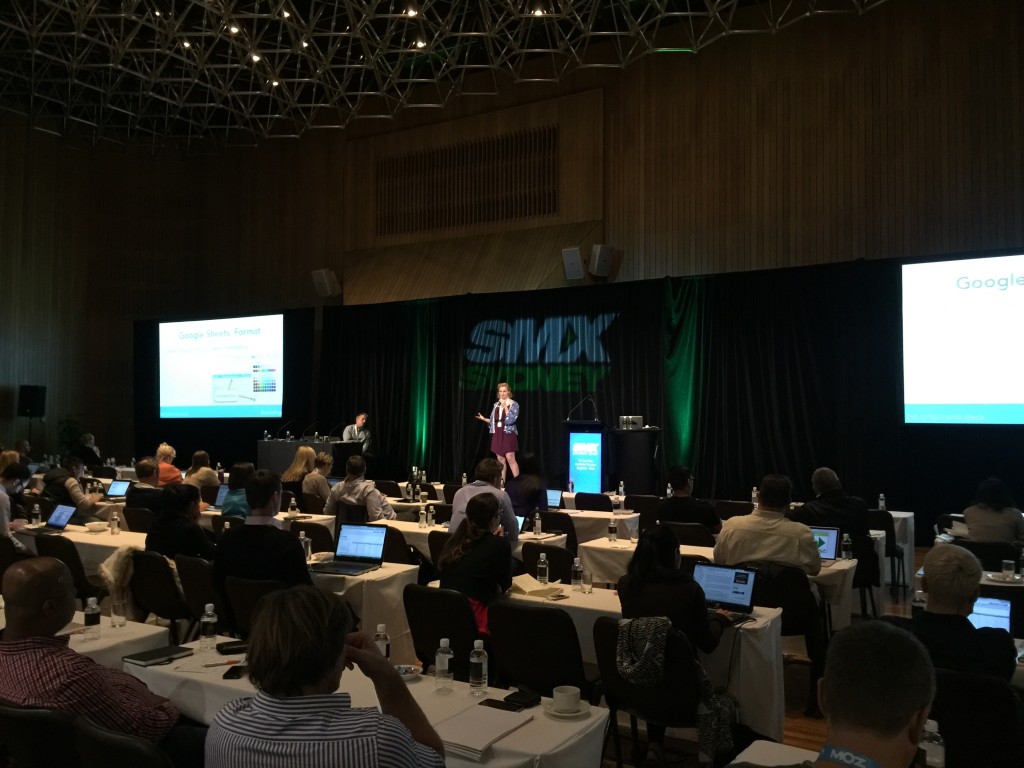 Tori patiently explained each step of the process, very clearly – with a few GIFs for good measure 🙂
You can download a sample monthly reporting Google doc here, so we all have some homework!
I really enjoyed this session and I'd recommend checking out Tori's slides if you want to step up your reporting:
Competitive Research For SEO – Jonas Weber
Jonas gave us a case study of various shopping comparison sites. With lots of data and screenshots, he performed a deep dive into why some quite large sites were positioned where they are, with the methods he used to come to get that data.
"Go for the evergreen categories and do them right. This worked out brilliantly" @JonasWeber_com speaking at #SMXSydney #smx #SEO #Content

— Amber Gladstone (@ambergladstone) May 13, 2015
The Growth Of Direct Answers: How Should SEOs React? – Ian McAnerin
Answers are now increasingly creeping into the SERPs. The two main sources of 'answer' data:
Knowledge Graph
Knowledge Vault
The types of formats used for answer data are Schema.org (websites) and Open Graph (social). A 'Feedback' link usually denotes Knowledge Vault.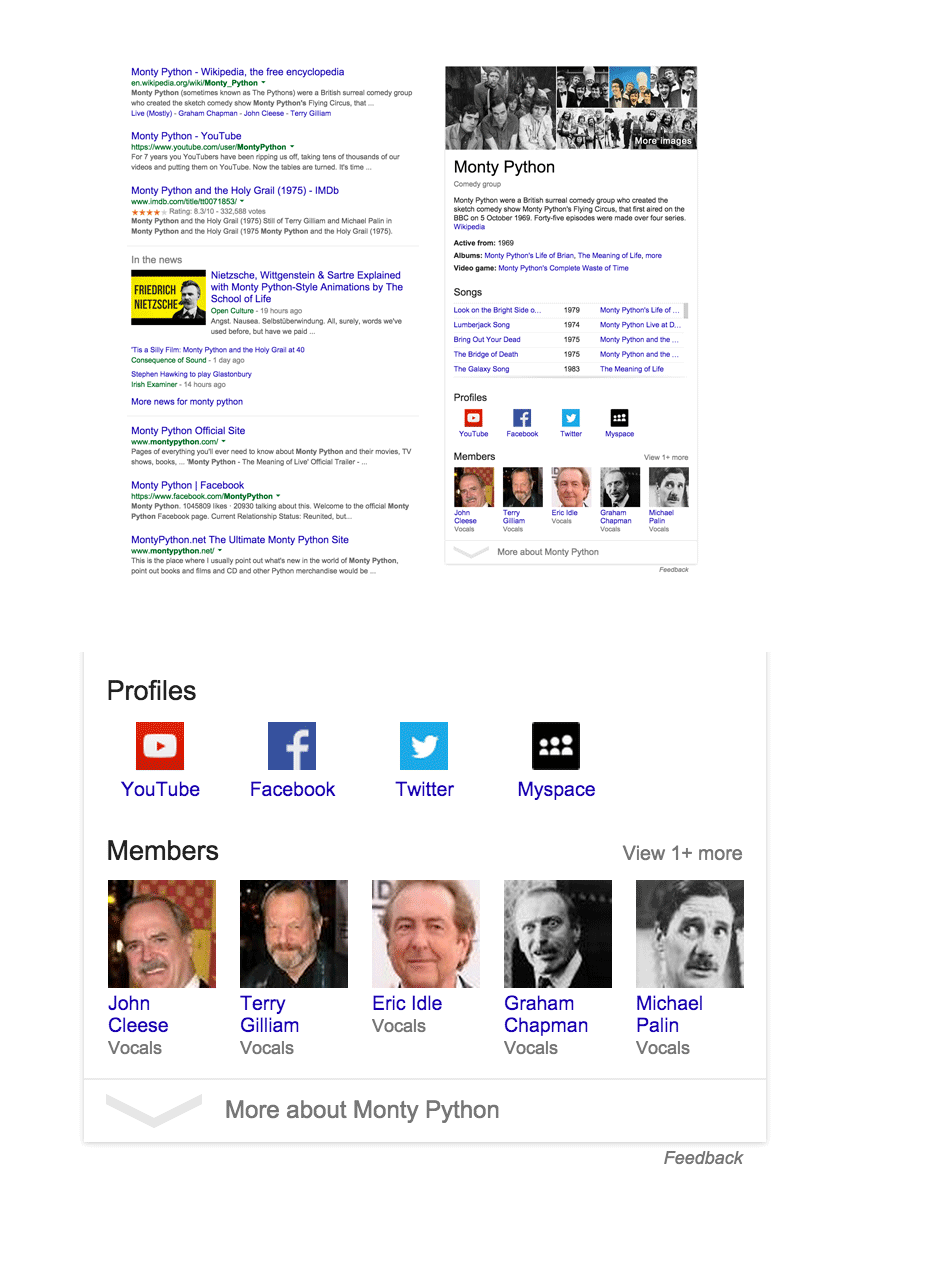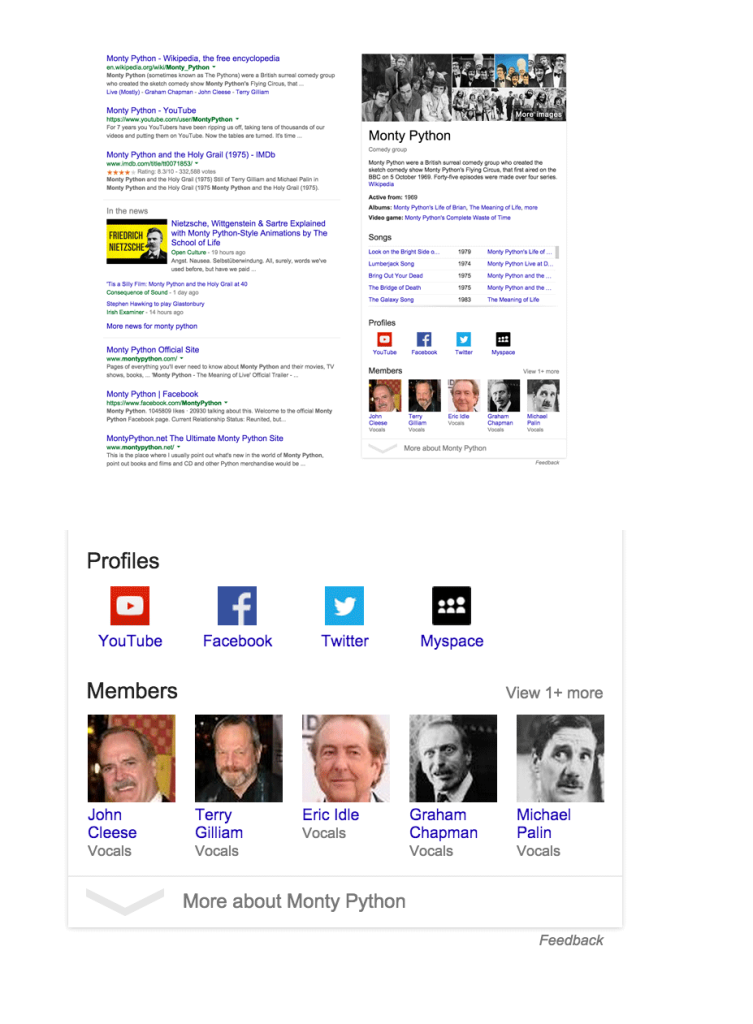 If you're looking for tools, take a look at Google's Structured Testing Tool, Schema.org and Google's Structured Data Customizer.
How to adapt? Think structured data and data optimisation.
How does Google decide an authority on a topic for answers? They use frequently, consistently selected search results. Google also uses 'confidence' as a factor of what it chooses to display.
A lot of this is clearly where things are heading. Some of the sites we used to see a few years ago won't have a place in the modern web. The quote from Ian below sums it up:
"If your business strategy is to collect and present data and facts you don't own, Google is now a direct competitor" #smxsyd15 #SMXSydney

— Brad (@BradForster) May 13, 2015
It's an interesting topic and personally something I still see a lot of opportunities in.
Thanks and Shout Outs
Thanks to everyone that contributed to this post. I'll add everyone here – just ping me – I'm sure I've missed some 🙂
Woj Kwasi
Reeva Cutting
Sha Menz
Brad Forster
Dan Petrovic
James Norquay
Peter Mead
Michelle Phibbs
Amber Gladstone
Barry Smyth
Further Coverage
If you're looking for more SEO goodness, check out the blogs below that also covered the conference:
I'll continue to update and pull things together and add some polish, so feel free to send anything you think should have been included. Looking forward to seeing everyone again, hopefully before SMX Sydney 2016 😉